Play Bayonetta 1 and 2 before playing 3, recommends Hideki Kamiya
Otherwise "I think you'll be missing out", the series' designer says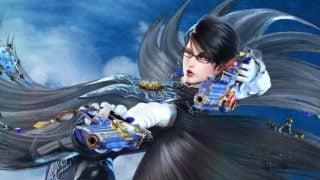 PlatinumGames' Hideki Kamiya has recommended that players should play the first two Bayonetta games before taking on the third.
In an interview with IGN Japan (translated by VGC), Kamiya explained that while it was possible to enjoy Bayonetta 3 without prior knowledge of the series, players would be "missing out" if they didn't know the full story going into it.
"I'd like you to play Bayonetta 3 after you've played the previous games," Kamiya said.
"We wrote the storylines for the first and second games in a way that you could enjoy them regardless of which one you started with, and there's no reason why you won't be able to follow the story and enjoy it if you start with Bayonetta 3.
Bayonetta 3 - first look at gameplay
"But I'm convinced that if you've played Bayonetta and Bayonetta 2 you'll find it even more interesting. So I hope you'll [play them to] prepare yourself for the third game.
"If you haven't played the first and second games, I think you'll be missing out."
Bayonetta 3 finally resurfaced in September 2021 with its first in-game trailer, published four years after its announcement in 2017.
The PlatinumGames action sequel was first announced via a brief teaser at The Game Awards in December 2017, but nothing had been seen of it since.
In a message posted on Twitter after the trailer's reveal, Kamiya thanked fans for their support.
He later wrote in a message published on the Platinum website: "There are still a lot of secrets about Bayonetta 3, but for now we'd like everyone to let your imaginations run wild from this trailer and get excited.
"With Bayonetta 3, I'm still overseeing the world and story, but in order to breathe some new life into the game I've chosen Yusuke Miyata, a longtime and trusted co-worker (although he can be a bit of a goofball), as the director."
Miyata added: "This is my first time working on the Bayonetta series, but just like all of you, I'm a big fan and played the previous games nonstop."