PlatinumGames 'SuperSummer Festival' live stream is coming this week
Presentation will focus on World of Demons, Sol Cresta, and The Wonderful 101: Remastered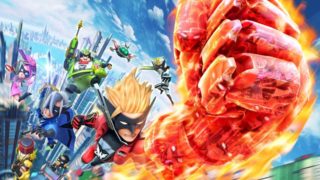 PlatinumGames has announced plans to host a 'SuperSummer Festival' live stream later this week.
Taking place on August 27 at 8pm PT / 11pm ET (August 28 at 4am BST), the presentation will focus on three games: The Wonderful 101: Remastered, retro shoot 'em up sequel Sol Cresta, and action game World of Demons.
"Come hang out with the developers of 3 of our games and get the scoop!" Platinum said.
Action-adventure game The Wonderful 101 first released for Wii U in 2013 before coming to Switch, PS4 and PC via Steam in May 2020 following a successful Kickstarter campaign.
Revealed earlier this month, Sol Cresta is a "free-form docking and shooting" sequel to 1985's Terra Cresta, according to its creative director, and Platinum's chief game designer, Hideki Kamiya.
World of Demons was released for Apple Arcade in April. It features a visual style inspired by Japanese ukiyo-e and sumi-e woodblock prints, similar to Capcom classic Okami, which was directed by Platinum co-founder Kamiya.
Players assume the role of the samurai Onimaru as he explores striking environments. Along the way, they meet samurai allies and supernatural entities, each with their own techniques and combo possibilities.
Platinum's most high-profile upcoming releases, Bayonetta 3 and Babylon's Fall, aren't expected to be be on show during this week's live stream.