PlatinumGames confirms Sol Cresta will release next month
The game joins the already stacked February release window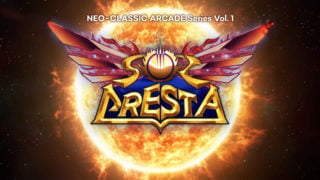 Sol Cresta, the new arcade-inspired title from PlatinumGames, will release in February, it has been announced.
As part of PlatinumGames "Release Date Forum" live stream, the team announced that the game will launch on February 22 for £39.99 / $39.99.
Sol Cresta is the sequel to 1980 arcade game Moon Cresta and its 1985 successor Terra Cresta.
It was originally 'announced' on April Fool's Day 2020, leading many to believe it was a joke announcement rather than an actual game. However, PlatinumGames then confirmed a year later that the game was indeed a real product, and is the first part in a planned series.
"This game will also be the first title in PlatinumGames' new brand, the Neo-Classic Arcade series," Platinum confirmed in April. "Stay tuned for more games in the series, in which the essential fun and spirit of classic games will be polished with modern technology and skill."
Speaking to VGC in a PlatinumGames interview published in September, Kamiya said Sol Cresta was just the first game in the studio's planned Neo-Classic Arcade line.
"The idea behind it is not looking at a specific IP or game, but taking that feel of those older games of the 8-bit and 16-bit era and bring back the days where you really had to find the fun and didn't have all the bells and whistles that we have these days," he explained.
"We have the technology now to improve on some of those ideas or maybe realise some pillars that weren't possible back then, but you still have the gameplay and core mechanics.
"So you have the classic game and add 'neo' elements. We might look at side-scrolling shooting, beat-em-ups and other older genres and incorporate those new ideas."
Related Products
Other Products
Some external links on this page are affiliate links, if you click on our affiliate links and make a purchase we might receive a commission.