PlatinumGames' Babylon's Fall gets first trailer in 18 months
Square Enix title set for further reveal in 2020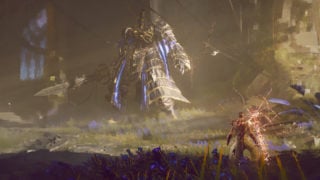 Square Enix has debuted the first trailer for PlatinumGames' Babylon's Fall, more than a year after it was announced at E3 2018.
A new teaser video gives viewers an early look at the game's "fluid, action gameplay and striking art style delivered by the original Brushwork Filter," says Square Enix.
Babylon's Fall is planned for release on PS4 and PC via Steam and more information will be revealed next summer, the publisher said.
In June PlatinumGames moved to explain the silence surrounding the title, telling VGC it was "up to the publisher" when the game would be fully unveiled.
The title, described as "a new challenge" for Platinum Games, was revealed via a teaser trailer in June 2018.
Asked for an update on Babylon's Fall development, Platinum studio head Atsushi Inaba told VGC: "When it comes to the timing of new information being revealed, that's the publisher's responsibility. It's going to be up to them.
"The only thing that we can say when people ask is no, it's not been cancelled. The production is going swimmingly.
"We're just doing what we're supposed to do and it's going to be up to the publisher when they're going to release the next information on the game.