Platinum Vanquish remaster listed on Xbox store
Updated version said to feature 4K graphics at 60fps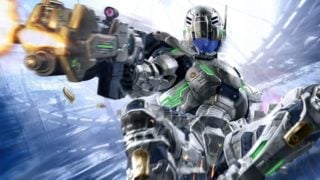 PlatinumGames' action title Vanquish is being remastered for current-gen consoles, according to a listing on the official Xbox store.

According to the listing, the Vanquish remaster will feature 4K graphics at 60fps on Xbox One X. The game is set for release on February 18, 2020 in the UK and the US.
The game will launch alongside a remaster of fellow Platinum action game Bayonetta, which was also revealed by a Microsoft store listing.
Update: Sega has released the official announcement trailer for the games, confirming plans to release both titles for Xbox One and PS4 on February 18.
Original story continues: While the titles have their own individual product pages, they'll also be released together in the Bayonetta & Vanquish 10th Anniversary Bundle, according to Microsoft.
Vanquish was originally published by Sega for Xbox 360 and PlayStation 3 in 2010, while an enhanced PC version launched in 2017.
Directed by Resident Evil creator Shinji Mikami, Vanquish received favourable reviews at the time of its original release and quickly became a cult classic among action game fans.
The game is known for its fast-paced action and unique sliding-boost mechanic.
The Vanquish IP is owned by Sega, but Platinum has already published a remaster of another title it worked on under the publisher, Bayonetta, for Nintendo Switch.
Upcoming sequel Bayonetta 3 was absent from E3 2019. However, Platinum head Atsushi Inaba told VGC that Bayonetta 3 development is "going well."