Platinum publicly backs Bayonetta's new voice actor, attempts to defuse ongoing debate
The series' developer asks fans to stop disrespecting Jennifer Hale or "any other contributor"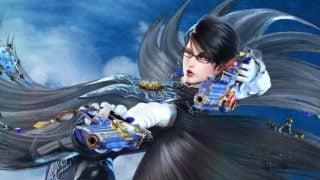 PlatinumGames has publicly stated its support for Bayonetta's new voice actor, while also attempting to defuse the ongoing debate around the role's previous performer.
Last week Hellena Taylor, who voiced Bayonetta in the first two games, posted a series of videos on Twitter asking fans to boycott the upcoming third game, claiming she was offered an "insulting" fee to reprise her role.
Sources then disputed Taylor's claims, suggesting the fee offered was higher than she alleges, while Bayonetta's new voice actor Jennifer Hale posted a statement expressing her hope that "everyone involved may resolve their differences in an amicable and respectful way".
Although PlatinumGames vice president Hideki Kamiya posted a series of tweets about the ongoing controversy, a public statement attributed to the company itself had yet to be posted, until now.
"We at Platinum Games offer our sincerest appreciation to everyone who has contributed to creating the Bayonetta series over the years, as well as the community that has served as its foundation," the statement reads.
"We give our full support to Jennifer Hale as the new Bayonetta, and align with everything in her statement.
"We ask people to please refrain from any further comments that would disrespect Jennifer or any of the other contributors to the series."
In her initial videos, Taylor alleged that she was offered just $4000 to return for Bayonetta 3, and criticised developer Platinum and publisher Nintendo.
In the video messages – which Taylor claimed was an act of her breaking non-disclosure agreements – the actress claimed she wrote to PlatinumGames head Hideki Kamiya, who offered her what she called an "immoral" offer to reprise her role.
Listing her performing credentials, Taylor added: "And what did they think this was worth? What did they offer to pay me? The final offer to do the whole game – as a buyout, flat rate – was four thousand US dollars."
Taylor's videos were viewed million of times and the actor received an outpouring of support from players as well as fellow voice actors, who have long complained of being underpaid. The videos also led to harassment toward Platinum developers and new Bayonetta actor Hale.
However, VGC and Bloomberg sources then disputed some of the allegations made by the voice actor, claiming Taylor's total fee would instead have been $15,000. In private messages exchanged with VGC, Taylor called this suggestion "categorically untrue".
Jennifer Hale will now be portraying Bayonetta in the third game. In her own statement earlier this week, she wrote: "As a longtime member of the voice acting community, I support every actor's right to be paid well and have advocated consistently for this for years.
"Anyone who knows me, or has followed my career, will know that I have great respect for my peers, and that I am an advocate for all members of the community. I am under NDA and am not at liberty to speak regarding this situation. My reputation speaks for itself.
"I sincerely ask everyone to keep in mind that this game has been created by an entire team of hard-working, dedicated people and I hope everyone will keep an open mind about what they've created.
"Finally, I hope that everyone involved may resolve their differences in an amicable and respectful way."
Related Products
Other Products
Some external links on this page are affiliate links, if you click on our affiliate links and make a purchase we might receive a commission.