Plants vs Zombies: Battle for Neighborville joins EA and Origin Access
PopCap's third-person shooter released six months ago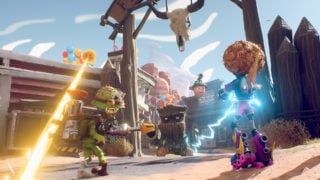 Electronic Arts has added Plants vs Zombies: Battle for Neighborville to its EA and Origin Access subscription services.
As a bonus, Access members get the exclusive Animal Noseguard cosmetic for Acorn and 30,000 coins each month. Origin Access Premier subscribers get 200 Rainbow Stars every month too, which like coins can be used to acquire cosmetic items from the in-game store.
Developed by PopCap, Battle for Neighborville was released as an early access game just six months ago on September 4, 2019, before officially launching on October 18.
Speaking last May, EA CFO Blake Jorgensen said the company expected the third-person shooter to sell "in the low single digit millions".
Discussing its performance in January 2020, he said EA "probably underdelivered slightly on Plants vs. Zombies, but that's one that will sell well over a long period of time".
EA Access, which is available for Xbox One and PS4, and Origin Access for PC, grant members unlimited access to full versions of selected back catalogue games published by EA. Subscribers also get early access trials of most new EA games and receive a 10 percent discount on EA digital purchases.
EA also recently soft launched Plants vs. Zombies 3, the latest instalment in PopCap's mobile series, which had generated over one billion downloads worldwide as of July 2019.
The game, which plays in portrait mode and has a new 3D art style, is available for technical testing in the Philippines, with more countries set to be added over time.