Pikmin 4's first week sales in Japan were more than the previous three games combined
The game had been heavily advertised in the days leading up to launch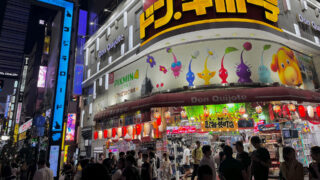 Pikmin 4's first week sales in Japan were more than those of the first three Pikmin games combined.
Famitsu has published the physical game sales chart for the week ending July 23, and Pikmin 4 is at number one with 401,853 copies sold.
By comparison, based on archived Famitsu chart information, the first Pikmin sold 101,299 in its first week, Pikmin 2 sold 161,930 and Pikmin 3 sold 92,720.
It should also be noted that these charts only count physical sales and Nintendo hasn't shared information on how many digital copies of Pikmin 4 have been sold, meaning the actual first week total is likely significantly higher than 401,853.
Before the release of Pikmin 4, the best launch for a game in the series was the Switch re-release of Pikmin 3 (titled Pikmin 3 Deluxe), which sold 171,349 physical copies in its first week.
The sales are likely due in part to a widespread advertising campaign for the game which took place throughout Japan, something VGC can attest to having been in the country in the two weeks leading up to its release.

Last week Nintendo's chief designer Shigeru Miyamoto discussed the historical performance of the Pikmin games and why he believed the series hadn't "exploded" commercially like some of the company's other franchises.
The Super Mario creator said he believed the series' difficulty, specifically related to its controls and depth of gameplay, was the main factor, and that a lot of effort had gone into trying to "convey these points as 'interesting' rather than 'difficult.'"
VGC's Pikmin 4 review calls the game "a brilliant entry point for new players", saying: "Pikmin 4 is a smart and content-packed refinement of one of Nintendo's most underrated series, but long-time fans may be put off by how long its generous campaign takes to get going."