Pikmin 4 is now the best-selling game in the series
The game has outsold every other Pikmin title in its first two months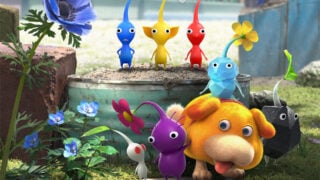 Pikmin 4 is now the best-selling game in the Pikmin series.
In its latest financial information detailing the last six months ending on September 2023, Nintendo revealed that the latest Pikmin game had sold 2.61 million units up to that point.
This means that the game, which was released in late July, has managed to outsell any other Pikmin title in a little over two months.
The previous best-selling game in the series was Pikmin 3 Deluxe, also on Switch, which was released in October 2020 and had sold 2.4 million copies by December 2022.
A large portion of these sales have come from the game's native Japan, where it's been far and away the best-selling game in the country for a while. According to Nintendo, 1.36 million copies – more than half of the game's sales – were sold in Japan.
The game also continues to feature regularly in the top five in the Japanese physical software charts, and has sold around 930,000 physical units in Japan alone.
The game's success in Japan is likely due in part to a widespread advertising campaign for the game which took place throughout the country, something VGC can attest to having been in Japan in the two weeks leading up to its release.

Elsewhere in its figures, Nintendo noted that Mario Kart 8 Deluxe remained the best-selling Switch game, having sold a further 1.5 million copies in the last three months to bring its total sales to 57.01 million to date.
VGC's Pikmin 4 review calls the game "a brilliant entry point for new players", saying: "Pikmin 4 is a smart and content-packed refinement of one of Nintendo's most underrated series, but long-time fans may be put off by how long its generous campaign takes to get going."