Pikmin 3 on Switch reportedly runs at 720p/30, the same as Wii U
Tech analysis suggests minimal visual improvement for Switch's Deluxe port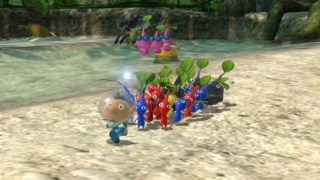 The Nintendo Switch port of Pikmin 3 features near-identical performance to the Wii U original, a technical analysis of the game's demo suggests.
According to a new video by VG Tech, Pikmin 3 Deluxe runs at 720p / 30fps in docked mode – the same as the 2013 Wii U game – and 576p in portable mode, which is slightly higher than the Wii U Gamepad's 480p resolution.
The analysis is based on the pre-release eShop demo released last week, and performance could theoretically improve with the final release.
Nintendo's previous Wii U ports have typically improved the performance of their original versions, with Mario Kart 8 Deluxe, New Super Mario Bros. U Deluxe, Hyrule Warriors and Donkey Kong Country: Tropical Freeze all running at up to 1080p/60fps in docked mode.
While some fans may be disappointed by Pikmin 3 Deluxe's seemingly minimal performance boost, the game does add a significant amount of new content in the form of full co-op support, story content and quality of life improvements.
Most significantly, Deluxe adds new prologue and epilogue story missions featuring protagonists Olimar and Louie, the ability to play in co-op on the same console throughout the campaign, as well as head-to-head multiplayer matches in the form of Bingo Battle.
The game has also added the Piklopedia, which contains information on creatures players encounter during their adventures. In addition, players can collect in-game badges by meeting certain conditions.
In terms of settings, the Switch version adds new difficulty options, lock-on targeting, optional hints and the choice to play at "a more relaxed pace". Deluxe also includes all the Mission mode DLC stages from the original game's release.
According to multiple reports, a more powerful Nintendo Switch 'Pro' model is being prepared for release next year, which could improve the performance of many released games.