Peter Molyneux's 'blockchain business sim' releases next month
It's claimed the game will be an "unforgettable business adventure"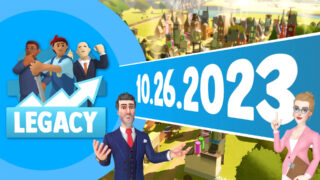 The latest game from Peter Molyneux, the creator of Populous, Fable and Black & White, is to be released next month.
Legacy is described as a "highly anticipated web3 business simulation game", based on blockchain technology.
According to blockchain game publisher Gala Games: "Ownership and creativity take center stage as you get the chance to build and manage your business on your very own land."
Players will own pieces of land, as well as 'Legacy Deed Keys' that correspond to how rare their land is.
"Deed Keys allow the Landowning player to empower 'partners' (F2P players) to win real rewards," Gala Games claims.
Players still looking to own land in the game can buy them from NFT marketplace OpenSea, with prices currently ranging from around $6000 to $40.
Legacy was announced in late 2021, when the NFT and blockchain craze was at its peak.
"Legacy is a creative entrepreneur's dream come true, an opportunity for players to build their very own business, designing their very own products from a huge array of possibilities as they create a business empire the likes of which the world has never seen," Molyneux said in a post on his blog at the time.
Since then the cryptocurrency market has seen a huge crash, and while some claim it shows signs of recovery, many investment experts warn that the market is considered highly volatile.
Legacy, created by Molyneux's studio 22cans, follows his 2014 video game Godus, an early access God game which – despite still being in 'early access' on Steam to this day – has all but been abandoned.
Prior to Godus, Molyneux released Curiosity: What's Inside the Cube? This mobile title saw players across the world working together to tap at a cube until every block was revealed.
The final player to tap the game was set to receive a "life-changing" reward, which ultimately revealed to be the role of 'god' in Godus, and a small portion of the game's revenue. The winner, Edinburgh resident Bryan Henderson, ultimately made no money.