PES 2020 demo coming this month
Featuring online mode and 14 playable teams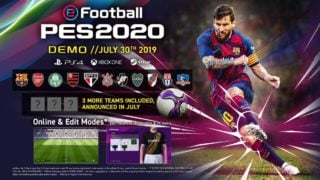 Konami has announced details of an upcoming eFootball PES 2020 demo.
Launching on July 30 for PS4, Xbox One and Steam, it'll feature access to the game's online and edit modes.
Users will be able to choose from 14 playable teams including Barcelona, Arsenal and Boca Juniors.
The first trailer and details for the 2020 instalment of Pro Evolution Soccer were released earlier this month.
Konami says gameplay improvements include upgraded trapping mechanics, context-sensitive kick accuracy, a new intentional foul move and a fresh dribbling technique called the Finesse Dribble.
PES 2020 will also include a complete overhaul of the franchise's popular Master League mode, including the option to choose from several legends as the team's manager (instead of having to create your own likeness). These include Diego Maradona, Johann Cruyff and Zico.
The PES 2020 release date is September 10, 2019.
PES 2019 will be among this month's free games for PlayStation Plus subscribers, which will be available to download from Tuesday July 2.