Payday 3 developer diary details the game's evolved heist experience
Including the ability to take civilians as hostages and use them to negotiate with cops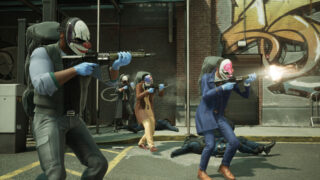 Starbreeze has released the first in a series of Payday 3 developer diaries.
Viewable below, it serves as an introduction to the game, covering some of features that will be familiar to Payday 2 players as well as some of the new ones that will set it apart from its predecessor.
"I think the biggest change from Payday 2 to Payday 3 is just generally how the heist experience has evolved," says producer Andreas Häll-Penninger.
"In Payday 2 you have stealth and then you have loud, which is pretty binary, and that's something that we really wanted to flesh out and evolve.
"So, in Payday 3 you have stealth and then you have something that we call search. which essentially when guards are looking for you and they're suspicious.
"And then you have something really interesting, which is called negotiation, so first responders arrive on the scene, and if you have hostages, you can start trading them to buy time before the cops get in, or you can save the hostages for later because you can trade them for resources."
As previously confirmed, Payday moves the action from Washington to New York.
"A big reason for that is because New York is just the capital of capitalism," says Häll-Penninger. "Heisting with your friends and having all those skyscrapers around you, the yellow cabs, more pedestrians and traffic, that's just a very important piece in elevating the experience in general."
Starbreeze has said software giants, cryptocurrencies, mass surveillance and the Dark Web will play a role in the game, which stars the original Payday gang (Dallas, Chains, Wolf and Hoxton) alongside two more heisters.
Payday 3's first gameplay was revealed during the Xbox Games Showcase on Sunday, when a September 12, 2023 release date for PC, PS5 and Xbox Series X/S was also announced.
Related Products
Other Products
Some external links on this page are affiliate links, if you click on our affiliate links and make a purchase we might receive a commission.