Paradox is refunding Vampire: The Masquerade – Bloodlines 2 pre-orders
"As development continues, we will be updating the game's editions and bonus content"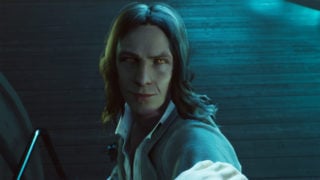 Paradox Interactive is offering refunds to anyone who has pre-ordered Vampire: The Masquerade – Bloodlines 2.
The company said on Wednesday that it is automatically refunding all physical pre-orders because it's updating various editions of the game, while digital pre-orders will also be granted upon request.
"It's been quite a while between updates while we've had our heads down working on the game," reads a message attributed to the Bloodlines team.
"We remain just as dedicated to delivering a great Vampire: The Masquerade – Bloodlines game as we were when we announced, and are looking forward to showing you more in September this year.
"We acknowledge it was a long time ago that many of you pre-ordered Vampire: The Masquerade – Bloodlines 2. As development continues, we will be updating the game's editions and bonus content, and we want to provide the best value to those of you who supported us via digital pre-order after all this time."
Today's update was accompanied by the release of five new screenshots, which are viewable below.
Bloodlines 2 has had a troubled and protracted development. It was initially being developed by Hardsuit Labs and was scheduled for release in 2020.
However, in August 2020 the action RPG sequel was delayed to 2021 and both its creative director and lead narrative designer were fired.
In February 2021 Paradox delayed Bloodlines 2 again and announced it had pulled development from Hardsuit Labs.
It said it had chosen to delay the game's release due to disruptions on development caused by the coronavirus pandemic.
"We have also decided that Hardsuit Labs will no longer be leading the development of Bloodlines 2, and we have started a collaboration with a new studio partner to finish work on the game," Paradox said.
"This has been a difficult decision, but we are convinced that it is the right way forward to do the game justice."
Paradox CEO Fredrik Wester later revealed that the company came close to scrapping Bloodlines 2 completely after cutting ties with Hardsuit.
"When we lifted the game from the original developer, we had a long review in case we should end the game or run it further," he said. "Then we were actually prepared to close the production completely. But we got a 'pitch' that we thought was convincing enough to run. played on and we have very good hopes that it will be a good game that meets the players' expectations."
Related Products
Other Products
Some external links on this page are affiliate links, if you click on our affiliate links and make a purchase we might receive a commission.