Panzer Dragoon: Remake is available today in a surprise release
Timed Switch exclusive is out digitally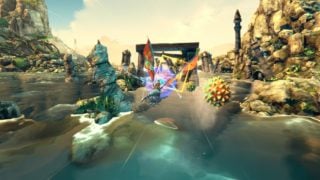 Panzer Dragoon: Remake is available digitally today for Nintendo Switch in a surprise release, Nintendo has announced.
Developed by Polish studio Forever Entertainment, Remake is a timed console exclusive which Nintendo says is "true to the original, with improved graphics and controls, that suit modern gaming standards".
It adds: "On a far, lone planet, you encounter two dragons awaken from the ancient times. Armed with a deadly gun from the past, and the guidance of your armored blue dragon, you must fulfill your destiny and keep the Prototype Dragon from reaching the Tower or die trying."
Remake features seven levels, ranging from tropical blue ocean cities to subterranean ruins.
Players attack enemies who approach from all sides, with improved 360-degree controls and lock-on targeting.
Originally released in 1995 for Sega Saturn, the original Panzer Dragoon is a rail shooter in which the player rides atop an armoured blue dragon.
The aim is to get to the ancient Prototype Dragon and destroy it before it reaches a black tower containing a wealth of weaponry.