Panzer Dragoon: Remake coming to PS4 and PC 'soon'
Game released in March 2020 as a timed Switch exclusive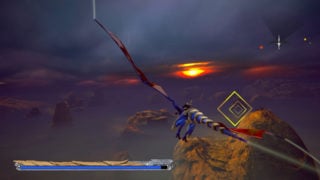 Panzer Dragoon: Remake will be released for PS4 and PC "soon", with an Xbox version also possibly on the horizon.
Developed by MegaPixel Studio and published by Forever Entertainment, Panzer Dragoon: Remake released as a timed Nintendo Switch exclusive in March 2020.
"Panzer Dragoon: Remake will be soon available on additional gaming platforms," reads a new message on the game's Twitter account.
"First up: Steam, GOG, and PlayStation 4."
The Panzer Dragoon: Remake Twitter account also implied an Xbox version of the game could be released at a later date.
According to its publisher, the title is "a new, remade version of the Panzer Dragoon game – true to the original, with improved graphics and controls, that suit modern gaming standards."
Remake features seven levels, ranging from tropical blue ocean cities to subterranean ruins. Players attack enemies who approach from all sides, with updated 360-degree controls and lock-on targeting.
Originally released in 1995 for Sega Saturn, the original Panzer Dragoon is a rail shooter in which the player rides atop an armoured blue dragon.
The aim is to get to the ancient Prototype Dragon and destroy it before it reaches a black tower containing a wealth of weaponry.
The Switch version of Panzer Dragoon: Remake received mixed reviews at launch, earning it a Metascore of 64 on review aggregation site Metacritic, based on 24 reviews.