Panic announces a Playdate price rise as the handheld gets its own digital store
The cost of the console will increase to $199 in April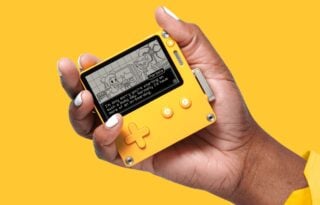 Panic has announced plans to increase the price of its Playdate handheld console beginning next month.
Starting on April 7, Playdate's price will increase by $20 to $199 due to rising manufacturing costs, the company said on Tuesday.
"That $20 delta is largely because our factory recently gave us the inevitable news that in 2023, the price of building a single Playdate is going up," said Panic co-founder Cabel Sasser.
The price rise was announced alongside the news that Panic has today launched an on-device digital store for Playdate called 'Catalog'.
It arrives with 16 Playdate games and apps, including 11 brand new titles, which are listed below and showcased in the video above.
Two of the games, Recommendation Dog!! and Reel Steel, are free for all Playdate owners as a bonus for Playdate Season One.
Catalog launch games
A Joke That's Worth .99¢ (kamibox) – $1
Bloom (RNG Party) – $10
Carve Jr. (Chuhai Labs) – $8
Direct Drive (DAC Vector) – $15
Down the Oubliette (Rebecca König) – $5
Eyeland (Ron Lent) – $2
Grand Tour Legends (Iorama) – $6
Hidey Spot (Panic) – $6
Playmaker (Dustin Mierau) – $15
Recommendation Dog!! (Sweet Baby) – free
Reel Steal (Sweet Baby) – free
Skew – A The Last Worker Spinoff (Oiffy) – $6
Swap Machina (NaOH & Zion D. Hill) – $5
Tapeworm Disco Puzzle (Lowtek Games) – $9
The Botanist (Cadin Batrack) – $9
Word Trip (Shaun Inman, Matthew Grimm, and Charlie Davis) – $6