Overwatch 2 has already smashed the original's peak player record, according to Blizzard
Daily player counts have nearly tripled the first game's peak, and 25 million players obtained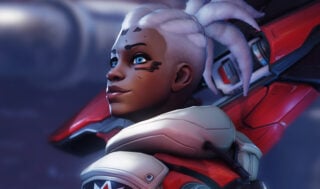 More than 25 million players played Overwatch 2 during its first ten days of availability, Blizzard has claimed.
That's significantly more than the 15 million players the original game attracted during its first three months of availability. However, the original game was a full-priced product, whereas the sequel launched as a free-to-play title.
According to Blizzard, daily player counts for Overwatch 2 have nearly tripled the original game's peak numbers.
"The launch of Overwatch 2 has been such an important moment for Blizzard," said president Mike Ybarra in a prepared statement. "We're thrilled to bring new players from around the world into Overwatch's vibrant universe while welcoming back the existing Blizzard community.
"This is only the beginning—there are so many possibilities to explore in the world of Overwatch, and we cannot wait for players to experience everything the team is building for the live game."
Overwatch 2's huge engagement numbers are in spite of the numerous issues it's experienced at launch.
These include server problems that have been exacerbated by distributed denial of service attacks, and the axing of a controversial policy that required all players to have a phone number attached to their Battle.net account in order to access the game.
On Thursday, Blizzard also confirmed it's looking into an Overwatch 2 bug that is causing some PCs to shut down or restart.
The studio has apologised for the game's rocky launch, and earlier this week it announced plans to compensate players with in-game items and double XP weekends "to help make up for any lost time".
It said: "Launching Overwatch 2 as a live service comes with amazing opportunities and challenges, both anticipated and unexpected.
"We've largely stabilized the game overall, and we've made a lot of progress in fixing or improving issues some of you are facing. We're committed to consistently investigating issues as they arise, working quickly towards fixes, and being transparent with our community on the status of Overwatch 2.
"The team continues to work to deploy further stability updates, with another patch planned for later this week, and we are monitoring the game closely for emergent issues and bugs."
Related Products
Other Products
Some external links on this page are affiliate links, if you click on our affiliate links and make a purchase we might receive a commission.