Over an hour of Rainbow Six: Parasite gameplay leaks from technical test
The game previously known as Quarantine is currently being tested privately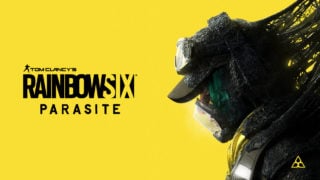 Over an hour of Rainbow Six: Parasite gameplay has been posted online, after users live streamed footage from Ubisoft's private technical test.
First announced at E3 2019 as 'Rainbow Six Quarantine', the squad-based FPS spin-off has yet to be shown publicly, and the only details revealed by its developer are that it's "a squad-based survival FPS" set in the future of the Rainbow Six universe, when a mutated alien parasite threatens the world.
It first emerged that Ubisoft was privately testing Parasite when imagery was spotted on the PlayStation Network last month. Ubisoft later confirmed the test was real and said it would share more details on the game in the near future.
However, leaked footage published on Facebook Gaming (watch it via the link) and YouTube this weekend has now revealed the first concrete gameplay details on Parasite.
Parasite appears to feature many of the Operators from Siege, each of which has Speed and Armour ratings, as well as special abilities such as the ability to deploy decoy holograms, detect all moving enemies in the area or deploy a mounted LMG.
Players embark in PvE Incursions against alien opponents and must complete various objectives, such as gathering intel, in order to progress. Teams can decide to progress through increasingly difficult map zones, with the chance of extra rewards, or extract at certain points with their loot.
Operators who don't make it to the extraction point are deemed 'MIA' and won't be available until rescued in a future Incursion.
Shooting mechanics look similar to Siege, and players can even reinforce some walls to slow down incoming enemies – or destroy them for surprise attacks.
The main CPU enemies in Parasite at the Archaeans, which come in various types with their own behaviours and skills. Archaeans will attack and call for backup if you're spotted, so stealth takedowns are encouraged.
Alien-looking Nests are located around the map, and alerted enemies can awaken them to spawn more foes, which they'll do until they're destroyed.
In October 2020, Ubisoft delayed the releases of Rainbow Six Parasite  to the first half of its fiscal year starting in April 2021, "due to production challenges related to work from home" because of the Covid-19 pandemic.
Speaking on the publisher's third quarter earnings call in February, Ubisoft chief financial officer Frédérick Duguet said the plan was still to release the game by September 30, 2021.
During the Q&A session of the call, Ubisoft was asked if it had any PR concerns about releasing a game about an alien parasite in the middle of a global pandemic and whether it might consider delaying the title again.
"On Rainbow Six Quarantine, we are creating a product that is actually, as it's named today, it is something we are evaluating and we will see what comes in the future on that product," Ubisoft CEO Yves Guillemot responded.