Over 420 of Forza Horizon 5's cars have been officially confirmed
Playground Games says there are still more to reveal before launch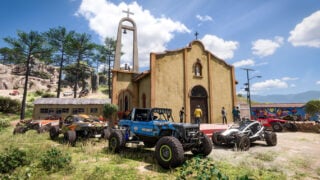 Playground Games has confirmed more than 400 of the cars that will be available in Forza Horizon 5 on day one.
A new blog on the official Forza website lists 426 cars, all of which will be included at launch. This includes the two cover cars, the Mercedes-AMG ONE and the 2021 Ford Bronco Badlands.
Other cars making their series debut include the 2020 Ford Super Duty F-450 DRW Premium, the 1991 Jaguar Sport XJR-15 and the all-electric 2020 Porsche Taycan Turbo S.
Every car in the game will be viewable in the Forzavista mode, where players can study them in extreme levels of detail with ray-tracing enabled.
The blog stresses that this is not the final list of cars, and more will be confirmed as the game's release nears.
A new Car Collection interface lets players track the vehicles they've acquired for each manufacturer. "It's like having your own virtual car sticker book", the blog claims.
Forza Horizon 5 will be released on November 9, 2021 for Xbox Series X/S, Xbox One and PC.
The full list of 426 cars can be found on the Forza website, but here's the list filtered by manufacturer:
Acura – 3 cars
Alpine – 2 cars
Alumi Craft – 1 car
AMC – 1 car
AMG Transport Dynamics – 1 car
Apollo – 1 car
Ariel – 2 cars
Aston Martin – 7 cars
Audi – 15 cars
Austin Healey – 1 car
Auto Union – 1 car
BAC – 1 car
Buick – 2 cars
Cadillac – 2 cars
Can-Am – 1 car
Caterham – 1 car
Chevrolet – 24 cars
Datsun – 1 car
DeBerti Design – 3 cars
Dodge – 9 cars
Exomotive – 1 car
Ferrari – 25 cars
Ford – 54 cars
Formula Drift – 7 cars
Funco Motorsports – 1 car
GMC – 1 car
Hennessey – 2 cars
Holden – 3 cars
Honda – 14 cars
Hoonigan – 11 cars
Hot Wheels – 2 cars
HSV – 2 cars
Hummer – 1 car
Hyundai – 1 car
Infiniti – 1 car
International – 1 car
Jaguar – 13 cars
Jeep – 6 cars
Koenigsegg – 6 cars
KTM – 1 car
Lamborghini – 16 cars
Land Rover – 6 cars
Lexus – 3 cars
Local Motors – 1 car
Lola – 1 car
Lotus – 5 cars
Maserati – 3 cars
McLaren – 10 cars
Mercedes-AMG – 4 cars
Mercedes-Benz – 17 cars
Meyers – 1 car
MG – 1 car
Mitsubishi – 7 cars
Morgan – 1 car
Morris – 1 car
Mosler – 1 car
Napier – 1 car
Nissan – 20 cars
Opel – 1 car
Pagani – 3 cars
Penhall – 1 car
Peugeot – 3 cars
Plymouth – 1 car
Polaris – 1 car
Pontiac – 3 cars
Porsche – 28 cars
Radical – 1 car
Ram – 1 car
Reliant – 1 car
Renault – 5 cars
Rimac – 1 car
RJ Anderson – 1 car
Saleen – 2 cars
Sierra Cars – 1 car
SRT – 1 car
Subaru – 7 cars
Toyota – 11 cars
TVR – 3 cars
Ultima – 1 car
Vauxhall – 2 cars
Volkswagen – 13 cars
VUHL – 1 car
Willys – 1 car
Zenvo – 1 car