Original Doom games out now for consoles in surprise release
Doom, Doom 2 and Doom 3 hit digital stores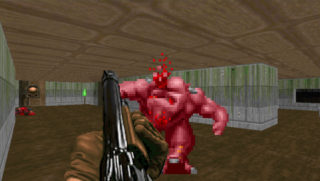 Bethesda has released the original Doom, Doom 2 and Doom 3 on PS4, Xbox One, Nintendo Switch and mobile in a surprise launch.
All three titles are available to purchase now on relevant console digital stores for $4.99 / £3.99 (Doom, Doom 2) and $9.99 / £7.99 (Doom 3). Doom and Doom 2 are also available on iOS and Android.
Doom includes the expansion, Episode IV: Thy Flesh Consumed, local 4 player deathmatch and local 4 player co-op.
Doom 2 includes The Master Levels level pack, local 4 player multiplayer and local 4 player co-op.
Finally, Doom 3 includes the Resurrection of Evil and The Lost Missions expansion packs.
The surprise release took place alongside QuakeCon on Friday, where Bethesda is commemorating the 25th anniversary of Doom.
Bethesda has a number of panels planned for the weekend, including one focussed on Fallout 76, a live gameplay demo of Doom Eternal and a panel detailing Elder Scrolls Online's upcoming DLC plans.
The latest Doom instalment, Doom Eternal will release on November 22, 2019. Read our full Doom Eternal interview for more from Id Software.