Ooblets studio stands by 'toxic, entitled' gamer comments
Glumberland says it's received "thousands of hateful, threatening messages"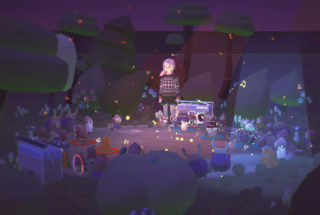 Glumberland has released an official statement regarding the harassment it's received following the announcement that the PC version of Ooblets will be a timed Epic Games store exclusive.
The studio's co-founders, husband and wife team Ben Wasser and Rebecca Cordingley, had anticipated something of a backlash to the news, so they addressed some of the most common complaints about the Epic Games store in their original announcement.
On the subject of exclusives being anti-consumer, their original post said: "It's also really disappointing to see folks threatening to pirate a game just because they can't get it on the game launcher they're used to.
"Feeling like you're owed the product of other people's work on your terms or else you'll steal it is the epitome of that word "entitlement" that people use to discuss immature, toxic gamers."
Glumberland's announcement and its tone were poorly received by some people, and the situation escalated when Wasser subsequently chose to engage with members of the community.
The studio reportedly got "thousands if not tens of thousands of hateful, threatening messages across every possible platform nonstop."
Writing on behalf of himself and his wife in a lengthy Medium post which details some of the racist and anti-Semitic abuse they've received, along with threats of violence, Wasser admits Glumberland could have handled the situation better, but also stood by its original comments.
"By engaging directly with that crowd, I mistakenly thought I could have some impact on their opinions and emotions and defuse the situation with some lighthearted criticism of the main things that drove them to attack people. You can see how well that went. It was a stupid miscalculation on my part," he said.
Wasser also said that fabricated messages attributed to him had been shared online to further inflame the situation.
"I'd challenge anyone to be on the receiving end of this for a few minutes/hours/days to not come to the conclusion that a huge segment of the broader gaming community is toxic. People are upset that I've said that word. Now imagine someone getting offended by me using the word 'toxic' in the context of what this group has been saying and doing to us."
Wasser goes on to say: "I recognize that none of this post equates to an apology in any way that a lot of the mob is trying to obtain, and that's by design. While some of what I've said was definitely bad for PR, I stand behind it. A portion of the gaming community is indeed horrendously toxic, entitled, immature, irrationally-angry, and prone to joining hate mobs over any inconsequential issue they can cook up.
"That was proven again through this entire experience. It was never my intention to alienate or antagonize anyone in our community who does not fit that description, and I hope that you can see my tone and pointed comments were not directed at you."
Wasser also thanked those who have been supportive of the studio during the controversy, including Epic Games. On Monday, the studio released a public statement denouncing the harassment of its development partners, which it said was becoming "a disturbing trend".