'One of the brightest stars' in indie development, Mohammad Fahmi, has passed away at 32
The developer was best known as the creator of visual novel Coffee Talk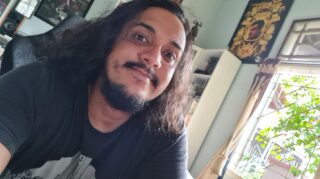 Mohammad Fahmi, who has been called "one of the brightest stars" of independent games development, has passed away at the age of 32.
Fahmi was best known as the creator of visual novel Coffee Talk and had most recently been working on the upcoming Afterlove EP.
He began his career at Gameloft, before joining Tech In Asia as the editor-in-chief of the outlet's games department.
Afterlove EP - Announcement Trailer - Nintendo Switch
He would later join Toge Productions, where he would develop Coffee Talk, his most widely known title.
His next game, Afterlove EP from developer Pikselnesia, is scheduled to be released for PlayStation, Nintendo Switch and PC in 2022.
Following the news of his passing, PlayStation Studios Malaysia head Hasnul Hadi Samsudin said the industry had lost one of its "brightest stars".
"We met at the first Level Up KL where we talked about how we could grow the region together," he tweeted. "No words can explain how great this kind and amazing soul. I will truly miss you."
Gwen Foster, head of business development at Robot Teddy, also paid tribute to Fahmi in a statement issued to IGN: "He's been a really great friend, a good person, and a wonderful developer. I'm happy he was able to do the things he wanted to do, but I know he would have built more heartfelt stories".
And Toge Productions PR representative Johana Tanoto said: "From Toge Productions, we'd like to say that having Fahmi be part of our team was a true honour and blessing. Being able to collaborate in creating Coffee Talk and making the game come to life for everyone to enjoy has been nothing short of a true wonder. We miss him already and we hope that he'll continue to watch over us as we keep his legacy going as best we can."