One day after Xbox, now PlayStation has taken over the Vegas Sphere
The venue reportedly charges $450,000 for the advertising space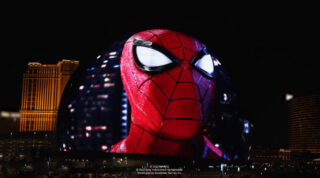 PlayStation has taken over the Las Vegas Sphere, a day after Xbox used the venue to paint the Nevada skyline green.
The venue, which is an 18,600-seat entertainment arena, features 580,000 sq ft of LED surrounding the building. According to a pitch deck for the venue, a one-day advertising campaign on the Vegas Sphere costs roughly $450,000.
PlayStation's Sphere ad showed an up-close look at Peter Parker's Spider-Man, Miles Morales' Spider-Man, and Venom, followed by a shot of the cover art.
Microsoft ran an Xbox advertisement on Las Vegas's new Sphere venue on Thursday, filling the city skyline with its own spherical logo.
Released on Friday exclusively for PS5, Spider-Man 2 continues the story Insomniac Games began with 2018's Spider-Man and its 2020 spin-off Spider-Man: Miles Morales.
Peter Parker and Miles Morales both take centre stage in the new game, with players swapping between the two Spider-Men as they team up to battle villains including Venom, Lizard and Kraven the Hunter.
The Spider-Man 2 review embargo lifted on Monday and critics have heaped praise on the title, making it one of Insomniac's highest rated games to date.
"Marvel Spider-Man 2 is an incredibly confident sequel and one of 2023's best games," according to VGC's 5-star review.