Okami 2 chances are 'pretty high', according to former dev team member Ikumi Nakamura
Original artist plans to pitch sequel to Capcom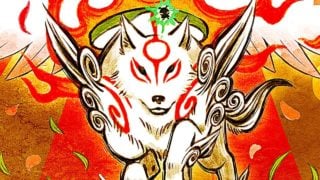 Okami artist Ikumi Nakamura has claimed she is planning to pitch a full sequel to the cult-classic adventure game to franchise owner Capcom.
Speaking during an IGN Japan interview, the freelance creative director – who rose to prominence following her passionate GhostWire: Tokyo presentation during publisher Bethesda's E3 press conference – said she believed the chances were "pretty high" she could get a new Okami project approved.
"Actually that's the project that I'd like to make reality the most," she said. "As long as I go after it, I have the feeling that the chances are pretty high that it might become a reality.
"So actually, after quarantine is over and the world becomes normal again, I am planning to make a visit to Capcom to propose the idea."
Originally released for PS2 in 2006, Okami is an action adventure game with a unique Japanese art style. The game combines Japanese mythology and folklore to tell the story of how the world was saved from darkness by goddess Amaterasu, who takes the form of a white wolf.
The original game was directed by Hideki Kamiya at Capcom's now-defunct Clover Studio.
Nakamura, who appeared in a video with Kamiya last year teasing an Okami follow-up, said she feels that any potential sequel would require the original director's involvement.
"For me, the most important thing is that if it happens, I want [Hideki] Kamiya to direct it again, because it's Kamiya's work of art and I feel like works of art like that should be out there," she explained.
"There's a lot of Okami that has still not been told, so there's still a lot to tell in that universe. I really hope that becomes a reality and if it does, it doesn't matter to me what kind of role I play in the game: I can be the producer, designer… whatever. As long as it becomes a reality, I would love to be part of the game."
Nakamura encouraged fans to show their support for a new project via online petitions.
Okami 2 reportedly was close to happening at Kamiya's PlatinumGames around 2015, but early plans for the project were said to have been shelved when negotiations with Capcom collapsed. This matches what sources have told VGC.
A handheld follow-up to the game, Okamiden, was released for Nintendo DS in 2010, but without the involvement of the original team.
Hideki Kamiya has expressed a desire to collaborate with Capcom in the past, however, he is currently directing new action game Project G.G. at PlatinumGames.