'Off to the job center!' Kamiya leaves Platinum in a Lamborghini and says he's not retiring
The Bayonetta director has launched a YouTube channel following his shock exit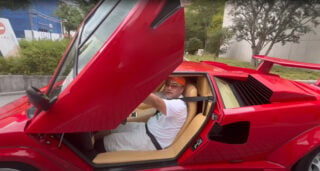 PlatinumGames' former vice president, Hideki Kamiya, has launched a YouTube channel and said he feels "very refreshed" after quitting the company he co-founded.
Last month Kamiya announced his shock exit from Platinum, after co-founding the company 15 years ago and leading some of its most iconic games in Bayonetta and The Wonderful 101.
In a video published on Thursday, Kamiya reiterated that he's not planning to retire from game development, but claimed that he won't be able to take a job in the industry for at least a year, likely due to a non-compete clause.
"I am Hideki Kamiya, unemployed. Welcome to my channel. I'm out of a job, so please subscribe," he joked.
"I feel very refreshed after leaving [Platinum]. I've been watching Netflix, Disney Plus, YouTube and stuff like that. I've already lost track of what day it is.
"I haven't been to work for a while. I think it's been about three months since I decided to quit. Once I decided to leave, I had to clean up all these toys and stuff like that. Once I finished cleaning, I was at home with my paid vacation."
The reason behind Kamiya's decision to leave Platinum hasn't been made public, and the game designer gives little explanation in his video, beyond hinting that his views possibly didn't align with its future direction.
"How should I put it… Umm… THERE'S NO WAY I CAN PUT IT," he said. "You guys understand, right?
"But… I'd say, I left the company because I wanted to follow my beliefs as a game creator. And to choose the path I think is right and move on. Yeah, so I'm not going to retire yet. I want to keep creating games."
He continued: "There are bunch of rumours about me. There's been some speculations about where Kamiya is joining and stuff… I even know some people spreading rumours that I'm NOT leaving Platinum. Bullshit!
"I can't work for (the same industry for) a year, due to reasons. So, it'll be a while until I bring good news to you all. It'll take time. but I'll make it happen."
Kamiya added: "To be super clear, I'm not retiring, as long as there's a place that would hire me, so you know… I'm gonna wait for the offer. I will consider ANY OFFER ABOVE 100 million yen ($670,650) a year. So if there's any company that would like to make an offer, Please contact me HERE!"
The video concludes with Kamiya leaving Platinum's car park in a Lamborghini Countach. "Off to the unemployment center. See ya!"
One of the many questions left open by Platinum and Kamiya's statements was the status of Project GG. Last month, Kamiya commented on the title for the first time since confirming his Platinum exit, telling a fan on Twitter to "ask Platinum about Platinum" regarding the future of the title.
Related Products
Some external links on this page are affiliate links, if you click on our affiliate links and make a purchase we might receive a commission.