Oddworld: New 'n' Tasty is coming to Nintendo Switch in October
2014 remake to release in physical and digital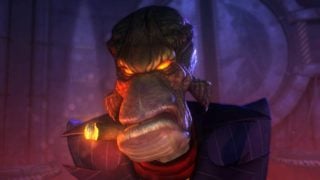 Oddworld: New 'n' Tasty will release for Nintendo Switch in October in both physical and digital formats.
The game is a "ground-up remake" of 1997's Abe's Oddysee, with new visuals, areas and controls. The remake was originally released for consoles and PC in 2014.
The physical standard and limited editions of New 'n' Tasty are available at retailers for pre-order beginning today, according to co-publisher Microids. The Limited Edition version includes special packaging, a key chain and stickers.
Last year developer Oddworld Inhabitants announced Oddworld: Soulstorm, a complete reboot of Abe's Exoddus, the 1998 sequel to Abe's Odyssey which suffered critically for having to be developed in less than a year.
This new game is creator Lorne Lanning's chance to "bite the bullet and go back to that original vision", he told Eurogamer.
Soulstorm is the second part of Oddworld's original vision to create a quintology of Abe games, said Lanning, and the reboot will also ignore all the games that followed Exodus.
The PC version of Oddworld: Soulstorm will be released exclusively through the Epic Games store.