Oculus Quest and Rift S set for May release
Standalone and "advanced" headsets to release ahead of Valve competition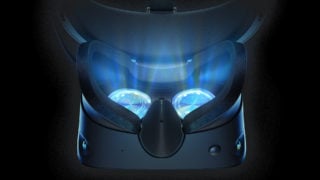 Oculus has announced its next two VR headsets, the Oculus Quest and Oculus Rift S, will both begin shipping on May 21.
Significantly, the $399 / £399 Oculus Quest headset doesn't require PC hardware to use — it's entirely self-contained and will be compatible with more than 50 games at launch.
The more powerful Oculus Rift S, meanwhile, is described as the company's "most-advanced, PC-powered gaming headset" yet.
Oculus Rift S features an upgraded 2560×1440 display and the same 'inside out' tracking system featured in the Quest, which eliminates the need for base sensors.
Oculus Rift S will also retail for $399 / £399, but requires a PC with 8GB or RAM, NVIDIA GTX 1050Ti/AMD Radeon RX 470 or greater, and Intel i3-6100 / AMD Ryzen 3 1200, FX4350 or greater.
The Oculus devices' May 21 release dates put them ahead of their just-announced "high-end" rival, Valve's Index, which will ship "by July 1".
The Valve Index features a 120 Hz / 144 Hz refresh rate – higher than its rivals – and dual 1440 x 1600 LCD panels, 0.330ms of persistence, and a 50% visual fill factor.
Valve will support the Index at launch with Portal spin-off Aperture Hand Labs, a demo of the headset's finger and hand tracking technology. Another unannounced VR title – compatible with all PC VR headsets – is also in development.