October's Apple Arcade games include NBA 2K23 Arcade Edition
Apple details this month's additions to its subscription service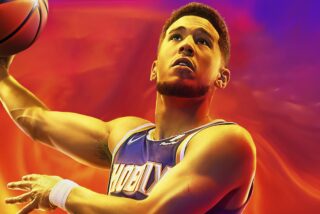 Apple has announced October's Apple Arcade games line-up, which is headlined by NBA 2K23 Arcade Edition.
Set for release on October 18, NBA 2K23 Arcade Edition features career and online multiplayer modes in addition to an exclusive new mode called 'Greatest'.
It sees players facing off against leading basketballers from the most recent NBA season including Devin Booker, Kevin Durant and Luka Doncic, and legends such as Michael Jordan, Shaquille O'Neal and Dirk Nowitzki, in a bid to become the top finisher, shooter, playmaker or defenceman in the NBA.
Another Arcade Originals title, Stitch, is coming this month as well. It's a casual puzzle game in which players embroider on a numbered grid. They can create patterns, landscapes, plants, animals, objects and more, with the main objective being to fill in the levels' areas with no gaps.
Three more App Store Greats will be released in October too: card games Spider Solitaire: Card Game+ and Gin Rummy Classic+, and The Gardens Between+, a puzzle game that plays with time and memory.
October will also see Halloween-themed updates released for several titles including Goat Simulator+, Pac-Man Party Royale, What The Golf?, Solitaire Stories, and Lego Brawls.

September's line-up of new Apple Arcade games included Shovel Knight Dig, Horizon Chase 2, GRIS+, Garden Tails: Match and Grow, Farmside, and a quiz game from actor Tom Hanks called Hanx 101 Trivia.
Other recent additions to Apple Arcade include Amazing Bomberman and Air Twister, which is the latest title from Shenmue creator Yu Suzuki.