Observer System Redux announced for next-gen consoles
Remastered cyberpunk game releasing during the 2020 holiday season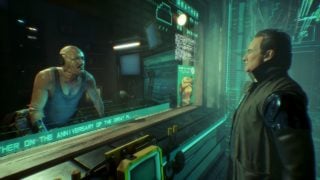 Bloober Team will release an updated version of its cyberpunk thriller Observer for next-gen consoles.
Titled Observer System Redux, it promises to deliver enhanced gameplay, improved graphics and new story content when it releases during the 2020 holiday season, presumably for PlayStation 5 and Xbox Series X.
"You are Dan Lazarski, an elite neural detective known as an Observer, and part of a corporate-funded police unit whose purpose is to hack and invade suspects' minds," reads the official blurb for the game, which is set in 2084 and stars Rutger Hauer.
"In this future, anything you think, feel, or remember can be used against you in a court of law.
"As you hack into the unstable minds of criminals and victims to look for clues, you will relive their darkest fears, forcing you to question your own reality – and your sanity."
Observer originally released for PS4, Xbox One and PC in August 2017, before making its way to Nintendo Switch in February 2019.
Polish independent developer Bloober has released two games since in the form of last year's fellow psychological horror titles Layer of Fears of Fear 2 and Blair Witch.