Nvidia unveils RTX 4070 Ti, out this week
The midrange video card will sport up to twice the performance of 3090 Ti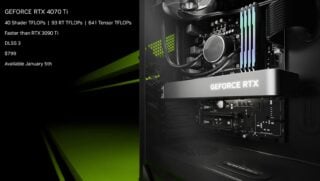 Nvidia has officially unveiled its RTX 4070 Ti video card, which will release on January 5 for $799.
The 4070 Ti has identical specs to last year's 12GB RTX 4080, which was launched alongside a more powerful 16GB model but later pulled partly because of its confusing positioning and weaker performance versus its sister card.
According to Nvidia, the 4070 Ti is targeted at those looking for midrange performance, or 1440p graphics, and will sport up to 2x performance compared to its 3090 Ti card.
The 40 series cards were first introduced last year and are powered by Ada Lovelace, the new generation of RTX tech. It's designed to substantially improve ray-traced lighting in games thanks to its use of DLSS 3.
DLSS 3 is an AI-powered performance multiplier that can be up to 4x the performance of brute-force rendering, according to Nvidia. The tech is coming to the world's most popular game engines, such as Unity and Unreal Engine.
DLSS 3 is the latest iteration of the company's critically acclaimed Deep Learning Super Sampling technology and introduces a new capability called Optical Multi Frame Generation.
Optical Multi Frame Generation generates entirely new frames, rather than just pixels, delivering "astounding" performance boosts, according to Nvidia.
Nvidia's flagship 4090 card retails for $1599, while the 16GB RTX 4080 retails for $1199.