Nvidia has unveiled its 30 series GPUs, which are capable of 8K/60 gaming
Next generation PC cards range from $500 to $1500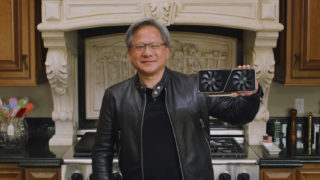 Nvidia has officially unveiled its latest PC graphics cards, the GeForce RTX 30 series, which it claims can deliver up to twice the performance of its previous generation GPUs.
The series is made up of three GPUs; the flagship GeForce RTX 3080, the GeForce RTX 3070 and the "ferocious" $1500 GeForce RTX 3090, which is capable of 8K 60fps output.
Nvidia CEO Jensen Huang unveiled the 30 Series GPUs in a live stream on Tuesday and claimed they would deliver its "greatest generational leap in company history."
Starting at $700 / £650, the RTX 3080 is the 30 Series' flagsghip model and features GDDR6X memory running at 19Gbps. According to Nvidia, the 3080 is capable of double the performance of a $1200 RTX 2080 Ti for almost half the price. It's planned for release on September 17.
Meanwhile, the cheaper $500 / £470 RTX 3070 features 8GB of GDDR6 memory and also delivers more performance than a 2080 Ti at less than half the price. It's planned for release in October.
Finally, Nvidia unveiled the "herculean" RTX 3090, which will retail for $1500 / £1400 on September 24 and feature a huge 24GB of GDDR6X memory running at 19.5Gbps – enough to tackle challenging AI algorithms and power true 8K gaming, according to the company.
At 4K it's up to 50 percent faster than the Titan RTX before it, Nvidia said.
"RTX 3090 is a beast — a big ferocious GPU. A BFGPU," Huang said. "There is clearly a need for a giant GPU that is available all over the world… The 3090 is so big that for the very first time, we can play games at 60 frames per second in 8K. This is insane."
During its presentation on Tuesday, Nvidia showed off the 30 Series cards with Black Ops Cold War, Watch Dogs Legion and Fortnite, all of which were confirmed to support ray tracing and DLSS features.
Anyone who buys an Nvidia 30 series GPU will receive a free copy of Ubisoft's Watch Dogs Legion, as well as a year's subscription to cloud gaming service GeForce Now.