Nuclear Throne and Luftrausers developer Vlambeer is to close
Dutch independent will disband on its 10th Birthday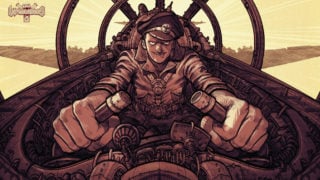 Dutch independent developer Vlambeer, known for Nuclear Throne, Luftrausers and Ridiculous Fishing, is to close down on its 10th anniversary.
The company's two collaborators Jan Willem Nijman and Rami Ismail announced the news via Twitter on Tuesday, stating that it was "time for new things."
"Today marks Vlambeer's 10th anniversary, which is way longer than we could've ever imagined," the pair said in a statement. "We had a beautiful run, made incredible games, and worked with amazing people, but it is time for new things. So we're announcing the end of Vlambeer."
They added: "It's not a sad day for us, but the happy conclusion to a whirlwind decade filled with screenshake. It feels like we've achieved what we set out to do – as a studio, as a voice, and as individuals, and we are extremely grateful for these past years."
In an additional statement provided to Kotaku, Ismail explained that he and Vlambeer's other founder wanted to do different things with their lives going forward.
"After Nuclear Throne it felt a bit like we had proven everything Vlambeer had to prove, and after a well-earned break after such a demanding project we realized that we had both found our own separate ways forward," he said.
Nijman added: "Like Rami explained, we've always worked very independently from each other. We figured out very early in our history that we shouldn't really share overlapping responsibilities, and Rami and I met in person maybe a few times a year, often by accident at some games event.
"In that way we've never really been a traditional games company. Despite all that (or actually because of it) we've been able to work with incredible people and make games we can be very proud of, it's been a really good ride."
Vlambeer's final game Ultrabugs is still planned for release on Steam, the pair said.