Now Xbox's Bethesda buyout even has its own Twitter emoji
Bespoke hashtag features both companies' logos
Twitter is celebrating the completion of Microsoft's Bethesda buyout with its own custom Twitter emoji.
Posting a tweet with the hashtag #Bethesda or #BethesdaJoinsXbox will now display the emoji, which features both the Xbox and Bethesda logos side-by-side.
At the time of writing, the only official account to actually use the latter hashtag is the Xbox Japan account, which tweeted the hashtag along with the message: "Welcome! Let's start a new journey together."
Microsoft's acquisition of ZeniMax Media, which includes Bethesda Softworks, was finally completed yesterday after originally being announced last September.
Microsoft's acquisition of ZeniMax Media will see Xbox Game Studios grow from 15 to 23 development teams.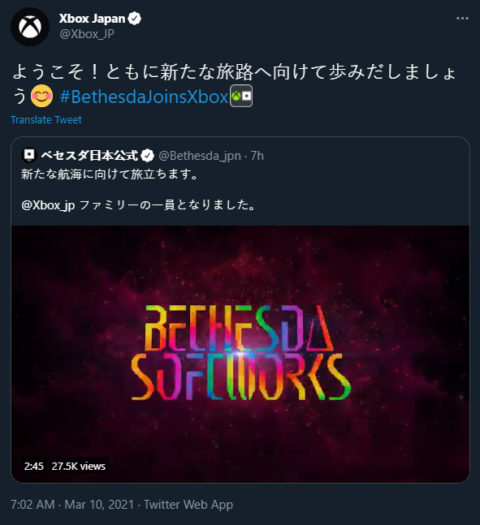 Employing some 2,300 staff worldwide, Bethesda Softworks studios include Bethesda Game Studios (Fallout, Elder Scrolls), id Software (Doom), ZeniMax Online Studios (Elder Scrolls Online), Arkane (Dishonored, Prey), MachineGames (Wolfenstein), Tango Gameworks (The Evil Within), Alpha Dog, and Roundhouse Studios.
Head of Xbox Phil Spencer recently said he believes that Bethesda's development teams will be "very, very critical" to the future of the Xbox platform.
In an additional statement published this week, Spencer said: "Now that everything is official, we can begin working together to deliver more great games to everyone."
According to a GamesBeat report published on Monday, Microsoft will publish a video presentation on Thursday answering questions about its acquisition of Bethesda.
"We celebrate the next chapter with our family at Xbox," a Bethesda statement added this week. "Together, we will continue to inspire creativity, and create worlds that you can leave your mark on."