Now even BMW's cars have microtransactions
High beam assist, video recording and even fake engine sounds can all be bought in-car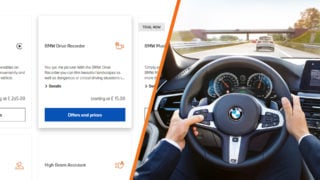 The world of microtransactions has made its way to the car industry, as the BMW ConnectedDrive service shows.
BMW has offered a number of connected features in its cars using an SD card since as far back as 2006, but the service has evolved over the years and now offers a large range of extra features that can simply be activated on the car by buying them online.
This was most recently brought to light by motoring journalist Jake Groves, who noted on Twitter this week that when he tried to activate the high beam assist on his BMW 530e, he was faced by a video game-esque message prompt telling him that he would have to purchase the feature from BMW's ConnectedDrive store.
The High Beam Assistant feature, which automatically switches the car between low beam and high beam at night to avoid dazzling other drivers, costs £160 ($220) on the UK store for unlimited use (it isn't currently listed on the North American store).
Other features available on the store include:
Apple CarPlay support – £265 / $300
BMW Drive Recorder (records 40 seconds of dashboard footage) – £15 per month / £199 unlimited
BMW Music (unlimited music powered by Napster) – £79 per year
BMW Online (news, weather and points of interest) – £39 per year
Concierge Services (access to a call centre to help you find specific places) – £89 per year
IconicSounds Sport (runs a fake engine noise through your speakers to sound like you're racing) – £99
Map Update Package (keeps your GPS map up to date) – £79 per year
On-Street Parking Information (shows available parking spaces) – £29 per year
Real Time Traffic Information (warns of congestion and hazards) – £49 per year
Remote Services (lock, unlock and find your car using your phone) – £29 per year
Reaction to Groves' tweet from those who weren't aware of these services has been mixed.
Some suggest it's a good idea to be able to add optional extras later in the car's life instead of having to choose them at the point of sale.
Others say it's greedy of BMW to have these features already pre-installed on the car and lock them behind a paywall, especially the High Beam Assistant which could make driving safer.
Naturally, others have just used it as an opportunity to make jokes:
BMW added many of these new features in late 2019, but they're only starting to come to light now as they roll out to more new models and the motoring press reports on them. Some recent Skoda models also feature similar microtransactions, according to users.
"We want our customers to enjoy all products, digital and other services together as a seamless experience," said Jens Thiemer, senior vice president of customer and brand at BMW, in a statement.
"They are already connected today via all the BMW Group's digital channels – from the web, through the BMW ConnectedDrive Store or via smartphone.
"Our goal is to ensure the customer no longer has to adapt to the specifics of their vehicle, but for the vehicle to be geared instead towards their personal and individual requirements."