Noara: The Conspiracy is a free-to-play 2v2 turn-based game with a unique twist
In this competitive title, you can still control your units during your opponent's turn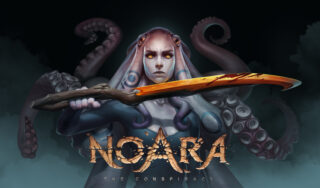 You may have played a MOBA, but have you ever played a MOCA?
It stands for Multiplayer Online Chess Arena, and it's what Atypique Studio likes to call its unique competitive turn-based game Noara: The Conspiracy.
After selling the game on Steam as an Early Access title for the past few months, Atypique has listened to player feedback and has decided to make the game a free-to-play title.
Best of all, that free-to-play model starts today, meaning you can head to Steam now and see what the fuss is without having to spend a penny.
Noara: The Conspiracy - free-to-play cinematic trailer
Atypique is an independent studio based in La Ciotat in France, and was founded in 2017 by author and RPG and strategy game enthusiast Jérémy Filali.
After four years of development. Jérémy and his team of developers released Noara on Steam in November 2021, and the response on Steam so far has been almost entirely positive.
Noara is a tactical multiplayer turn-based game, where players take part in competitive 2v2 matches.
By managing their economy, learning how to create combos with their units' skills and using the map's environment to their advantage, players can get the edge needed to win each contest.
What makes Noara unique compared to other turn-based titles, though, is that you don't just make your turn then sit back and watch while your opponent makes theirs.
The twist here is that even when you're defending, you're still fully active and can still react to your opponent's moves.
This means that not only do you have to think tactically when planning your own attacks, you also have to be quick enough to be able to counter any attacks sent your way.
Since the game was first released in Early Access in November, Atypique has been adding new features, and there are now four separate game modes players can choose from.
Naturally, the main 2v2 combat is still the game's bread and butter, and it's here where players can take part in ranked battles, either solo or in co-op with another player.
The aim here is to work your way up the six ranks available, starting off at the New Recruit rank and defeating enough opponents to eventually be crowned a Warlord.
If you want to mix things up a bit, Noara also has a 1v1 Skirmish mode. In this faster mode, players battle each other to see who can defeat the Kragh king first.
There's also a Custom mode where up to four players can create their own standalone games. This is useful for organising tournaments with certain rulesets, or for setting up certain scenarios so you can train and improve your skills.
Speaking of improving your skills, if the thought of jumping headfirst into an online multiplayer game feels a bit daunting, that's where Noara's new solo adventure mode comes into play.
This mode is essentially an elaborate training mode, where players learn all the main game mechanics, including character movements, skills and the different items involved.
By playing through this mode and taking on the 15 puzzle stages included, players will be able to fully verse themselves on how Noara's unique mechanics work and prepare for the online stage.
As previously mentioned, starting today Noara has gone free-to-play on Steam, meaning you can get stuck into all four modes at no cost.
Naturally, a lot of people read "free-to-play" and instantly translate that to "pay-to-win" in their heads, which is understandable. This isn't the case with Noara, though.
Atypique has promised that Noara will never have any paid gameplay content, meaning there won't be any form of pay-to-win in the game.
Instead, the in-game shop you'll find in Noara will contain a bunch of cosmetic items, including unit skins and character portraits, as well as other things set to be added in the coming months.
(Indeed, anyone who previously bought the game during its Early Access period will be getting a legendary skin, an exclusive portrait and a bunch of currency for the shop as a thanks for supporting the game.)
So that, in a nutshell, is Noara: The Conspiracy. It's a competitive 2v2 turn-based game, but with the unique twist that even when defending, players still have control over their units and can try to counter their opponents' attacks.
With the game now free-to-play as of today, there's really no better time to jump into it on Steam, become part of its community and help grow the game as it continues to evolve over the coming months.