Nintendo's stock price drops 7.5% after latest financial results
The company lowered sales targets and said exchange rates were partly to blame for a decline in profit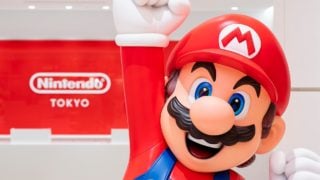 Nintendo's stock price dropped by 7.5% following its latest financial results.
The company's Tokyo Stock Exchange price dropped from ¥5,624 down to ¥5,201, its biggest drop in over a year.
The drop puts Nintendo's share price back to roughly where it was in January 2022, when it dropped to ¥5,192, and suggests a negative reaction to the publication of Nintendo's latest financial results on Tuesday.
In its results for the first nine months of FY23, Nintendo said its net sales were down 1.9% at 1,295 billion yen ($9.9 billion) and net profit was down 5.8% at 346.2 billion yen ($2.6 billion).
The company said fluctuations in foreign exchange markets had contributed to sales and profits declining, despite strong sales of Switch games and hardware.
Nintendo also said it expects to sell 18 million Switch consoles by the end of March, which is down from the 19 million predicted in the previous quarter, and 21 million before that.
That would mean that, as it approaches its seventh year on the market, Switch sales will have declined for two fiscal years in a row (down from 23m units in FY22 and 28.8m in FY21).
After Nintendo's results were first posted, Bloomberg reported that they had come as a negative surprise to some market analysts, with Toyo Securities' Hideki Yasuda telling the publication: "The outcome was weak and that's a surprise.
"The year-end holiday season suggested sales of hardware weren't that strong despite amplified supply, which also weakened sales of software. It's now clear that the Switch's momentum is downward."
These views were echoed in a new Bloomberg article today, in which other analysts suggested that the Switch is running out of steam. "Earnings showed the Switch is rushing to the end of its life cycle at a faster pace than what we had anticipated," Morningstar analyst Kazunori Ito told the publication.
"Hardware strategy is a key for Nintendo in the next fiscal term, but it looks like it has no good measures for now."
Asymmetric Advisors market strategist Amir Anvarzadeh also noted: "The issue that most analysts do not fully appreciate is the difficulty in upgrading the GPU of Switch without sacrificing battery life.
"This is a new problem for Nintendo as they have always had two consoles to take care of, one for home and the other is their handheld franchise."
Despite the hardware decline, Switch software sales remain strong at 172.11 million units for the first nine months of the fiscal year (down 4% year-on-year).
New entry Pokémon Scarlet and Violet sold a huge 20.61 million copies in the six weeks up to December 31, 2022, while Splatoon 3 sold 10.13m, and Switch Sports sold 8.61 million.
The next Nintendo Direct stream will take place today, and will feature "roughly 40 minutes of information mostly focused on Nintendo Switch games launching in the first half of 2023," according to Nintendo.
Related Products
Other Products
Some external links on this page are affiliate links, if you click on our affiliate links and make a purchase we might receive a commission.