Nintendo's short Super Mario Bros Wonder cartoon shows Bowser reacting to Elephant Peach
The villain's response may not be what you expect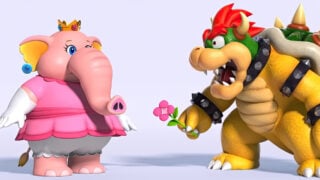 Nintendo has released a short cartoon promoting Super Mario Bros Wonder, in which Princess Peach turns into an elephant in front of Bowser.
The video appears to be one of a series of short cartoons set to be released by Nintendo of Japan as the game's release approaches.
In the short, Peach is playing with some butterflies when Bowser appears and offers her a flower.
An uninterested Peach is distracted when an Elephant Fruit – a new power-up from Super Mario Bros Wonder – bounces past her.
Peach grabs the power-up and is instantly transformed into Elephant Peach, stunning Bowser, who then reacts in a humorous manner.
The video can be seen below:
This is the second of Nintendo's series of short animations. The first, released on Tuesday, shows Mario also collecting the Elephant Fruit and turning into Elephant Mario.
Mario enjoys his newfound powers until he gets stuck in a pipe.
The first video can be watched below:
Set for release on October 20, Super Mario Bros Wonder is the first 2D Mario game since New Super Mario Bros U in 2012.
The game appears to introduce the most significant changes to the classic formula since the 1990s, with a new art style and a 'Wonder' mechanic which transforms stages in surprising ways.
In VGC's recent Super Mario Bros Wonder hands-on preview, we said the game "feels like a modern Super Mario World".
"Wonder is definitely looking like an incredibly promising step forward for the Mario Bros series," we wrote. "Can it live up to Mario's heyday? There's only little over a week left until you'll get to find out for yourself."
---
For more Mario Bros. Wonder, check out our guides for how to unlock the Special World levels and locations for all Mario Wonder secret exits. At the end? Find out how to unlock the final badge and how to beat the Final-Final Test.