Nintendo's given Animal Crossing Pocket Camp a third paid subscription
The mobile title now has three separate memberships costing a total of $12 a month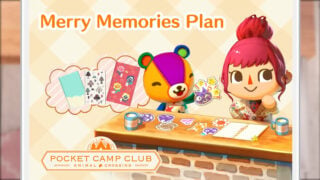 Nintendo's mobile title Animal Crossing: Pocket Camp has received a major update adding a number of new features, including a third separate monthly subscription.
The game already contains two separate subscription services, the Happy Helper Plan ($2.99 per month) and the Furniture & Fashion Plan ($7.99 per month).
Now the game has received a major version 5.0 update, and with it a third subscription called the Merry Memories Plan, which costs a further $0.99 per month.
Each subscription offers different new features, meaning players need to subscribe to all three at a total cost of $11.97 per month if they want everything the game has to offer.
Version 5.0 includes a new Pocket Planner feature, which gives players a small planner containing an in-game event calendar and release dates for new items.
The Merry Memories Plan unlocks more features for the Pocket Planner, including customisation options and a sticker shop where you can buy stickers with bells and place them on your planner's pages.
It also adds a new pedometer feature, which counts players' steps (similar to Pokémon Go) and gives them rewards if they hit milestones.
Other new additions in version 5.0 which don't require a paid subscription include the ability to have 16 animals at your campsite instead of eight, and a new smartphone widget which shows players messages from villagers on their phone's homescreen, and lets them boot the game from these messages.
The first two subscriptions were announced by Nintendo in November 2019. The $2.99 per month Happy Helper Plan lets players designate a villager to gather materials, earn bells and carry out villager requests while the game isn't being played.
The $7.99 per month Furniture & Fashion plan, meanwhile, lets players save design layouts, and gives them five Fortune Cookies each month, which contain previous time-limited furniture and clothing items that are no longer available in the game.
Related Products
Other Products
Some external links on this page are affiliate links, if you click on our affiliate links and make a purchase we might receive a commission.