Nintendo's Arms graphic novel has been quietly cancelled with no explanation
Fans of the cult Switch title left in the dark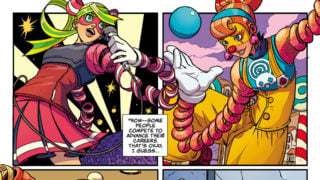 A graphic novel based on Nintendo's Switch fighting game Arms has been cancelled, and its author is unwilling to explain why.
A free prologue issue of the comic was released on Free Comic Book Day in May 2018. The cover of this book stated that the full graphic novel would be coming in Fall 2018.
Since then, however, there has been no further information about the comic, leading fans to worry about its future.
Although the book has never been officially cancelled, a user on the Arms subreddit noticed that the comic's author Ian Flynn had updated his portfolio page, in which he confirms that Arms had been cancelled at some point.
"Wrote the introductory Free Comic Book Day 2018 issue for a planned, but unfortunately cancelled, graphic novel series based on the popular Nintendo fighting game franchise Arms", it reads.
Flynn was then asked on Twitter if he could confirm the cancellation, but he stated that he didn't think he could or should do so officially.
Arms was Nintendo's first big post-launch game on the Switch.
Released in June 2017, the game features an unconventional fighting system where every playable character fights with long-range attacks. Up to four players can battle using a variety of extendable, customizable arms.
Last year one of the game's characters, Min Min, was added as a playable character in Super Smash Bros, Ultimate, fuelling speculation that Nintendo was trying to raise further awareness of the character for a potential sequel to Arms.
In the nine months since then, however, Nintendo has made no further mention of the series.
Last month, Nintendo announced Splatoon 3 for release in 2022. The title was shown off via a lengthy teaser trailer showing character customisation and detailed environments. No further information was revealed on the project.