Nintendo will hold a Smash Bros. esports tournament in UK schools
Platform holder supports gaming education programme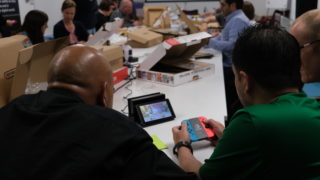 Nintendo has announced it will be the next lead partner for Digital Schoolhouse, a not-for-profit programme designed to increase games-based education in UK schools.
It will also hold a Super Smash Bros. Ultimate esports tournament across some 60 schools and colleges, it said on Wednesday.
The Digital Schoolhouse programme, which is run by trade body Ukie and was previously backed by PlayStation, is designed to bridge the creative and digital skills gap in the UK with "play-based learning."
Digital Schoolhouse will operate in around 55 schools and colleges this year, reaching a projected 32,000 pupils, it claimed.
Meanwhile the Digital Schoolhouse Super Smash Bros. Ultimate Team Battle will provide an "immersive career experience" for students, it said, allowing them to develop practical and soft skills such as team hosting and production.
The last Digital Schoolhouse esports tournament featured Blizzard's Overwatch.
"We're delighted Nintendo UK has agreed to throw its support behind Digital Schoolhouse," said the programme's director, Shahneila Saeed.
"To date, these partnerships have helped DSH achieve national expansion and rapid growth, which is testament to the significant commitment from schools across the country to improve their digital skills provision."
Nintendo UK's head of communications, Kalpesh Tailor added: "Nintendo UK is extremely excited to be working together with Ukie's Digital Schoolhouse as lead partner.
"The Digital Schoolhouse programme uniquely combines computing, fun, creativity and innovation, all of which are synonymous and at the heart of Nintendo's values.
"Through this collaborative partnership we aim to reach more teachers and pupils than ever before, in order to help inspire the next generation of young minds across the UK."