Nintendo Switch sales surpass 10 million in Europe
Hardware sales in 2019 are up almost 30% year-on-year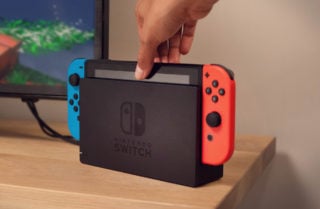 Nintendo Switch sales have surpassed 10 million units in Europe, according to the platform holder's internal sales figures.
The rate of adoption is growing too, Nintendo says, with Switch hardware sales in 2019 up almost 30% year-on-year, and more than 40% compared to 2017.
"The Nintendo Switch family of consoles is being enjoyed by millions of players across Europe, and passing such a major milestone is testament to its broad appeal," said Nintendo of Europe president Stephan Bole.
"European sales of Nintendo Switch hardware and software are growing significantly each year, and existing and new console owners have a wealth of titles to choose from, with plenty more on the way."
Nintendo says over 36 million Switch games have been sold in Europe since the system launched in March 2017.
Nine first-party games have sold more than one million units in Europe: Mario Kart 8 Deluxe, Super Mario Odyssey, The Legend of Zelda: Breath of the Wild, Pokémon: Let's Go, Pikachu! and Pokémon: Let's Go, Eevee!, Super Smash Bros. Ultimate, Splatoon 2, Super Mario Party, New Super Mario Bros. U Deluxe, and 1-2-Switch.
Third-party Switch games to have sold over half a million units in Europe include Minecraft, Crash Bandicoot N.Sane Trilogy, Mario + Rabbids Kingdom Battle, and Stardew Valley.
It was recently reported that around 1.9 million Switch consoles have been sold in the UK to date. And according to a tweet from Niko Partners analyst Daniel Ahmad on Thursday, approximately 2.5 million Switch units have been sold in France. Those figures are dwarfed by 9.5 million Switch sales in Japan, and 10 million Switch sales in the US as of December 2018, he adds.
Nintendo launched Switch Lite on September 20 alongside The Legend of Zelda: Link's Awakening, the fastest-selling Switch game of 2019 in Europe.
The company said in July that global Switch sales were approaching 37 million units. It expects to sell 18 million Switch units during the current financial year ending in March 2020. Should it achieve its target, the system would surpass lifetime sales of the SNES (49.1 million units).
Upcoming Switch software releases planned for 2019 include Ring Fit Adventure on October 18, Luigi's Mansion 3 on October 31 and Pokémon Sword and Pokémon Shield on November 15.
A limited edition Pokémon Sword and Pokémon Shield Switch Lite console will also be released in November.
In VGC's Nintendo Switch Lite review, we called the system "a secondary console worth owning".