Nintendo Switch, Mortal Kombat 11 top US sales in May
Overall spending on gaming products down 11% year-over-year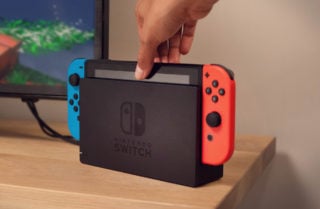 Nintendo Switch continued to lead US hardware sales in May, while Mortal Kombat 11 retained the top spot on the monthly software chart, according to data from market research firm the NPD Group.
Analyst Mat Piscatella said hardware spending in May 2019 totalled $149 million, down 20% from May 2018, with Nintendo Switch growth offset by declines across all other hardware platforms.
With Xbox One and PS4 sales falling ahead of the arrival of next-gen consoles, year-to-date hardware spending is down 17% year-over-year to $1.07 billion.
In a blog post following E3 last week, Piscatella called Switch "the most important piece of video game hardware in the market right now".
He expects Switch sales "to continue at a strong pace" throughout 2019, Pokémon Sword and Pokémon Shield "to drive both significant software and hardware sales volume, and Nintendo to finish as the year's best-selling software publisher".
May 2019 software sales came in at $262 million, down 13% compared to May 2018 and the lowest software sales for a May month since 2013. "Total dollar sales of new releases in May 2019 are the lowest for new releases in a May month since May 1998," NPD said. Year-to-date, software sales are up 2% versus 2018 to $2.17 billion.
Mortal Kombat 11 and Days Gone retained the top two spots on the monthly software chart, ahead of new releases Total War: Three Kingdoms and Rage 2, while Grand Theft Auto V rounded off the top five.
Piscatella said last week he expects Mortal Kombat 11 to be the sixth best-selling game of 2019, behind leader Call of Duty: Modern Warfare, NBA 2K20, Madden NFL 20, Borderlands 3 and Star Wars Jedi: Fallen Order.
Combined hardware, software and accessories sales in May 2019 were $641 million, down 11% from May 2018. Year-to-date consumer spending on gaming products is down 3% year-over-year to $4.65 billion.
May 2019 top 20 games
Mortal Kombat 11
Days Gone
Total War: Three Kingdoms
Rage 2*
Grand Theft Auto V
Red Dead Redemption II
MLB 19: The Show
NBA 2K19
Mario Kart 8*
Tom Clancy's The Division 2^
New Super Mario Bros. U Deluxe*
Tom Clancy's Rainbow Six Siege
Assassin's Creed: Odyssey
* Digital sales not included
^ PC digital sales not included
# Minecraft digital sales on PS4 and Xbox One included