Nintendo Switch is getting a fishing controller
Hori announces officially licensed peripheral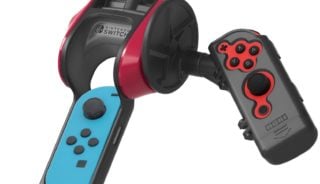 Japanese peripheral firm Hori has announced an officially licensed fishing controller for Nintendo Switch.
The Fishing Spirits Joy-Con Attachment for Switch will release on July 21 for ¥2,480 (around $22 / £18).
The peripheral is intended to be used with Bandai Namco title Fishing Spirits, the arcade adaptation released last summer.
The title has players catching marine life and other creatures while earning medals, and has consistently been among Japan's weekly top selling games.
According to Famitsu data, Fishing Spirits has sold over 400,000 copies in Japan.
Fishing Spirits already features a unique Joy-Con control scheme, which has players casting a line and reeling in fish using the wireless controllers.
On Tuesday Nintendo announced it has temporarily suspended shipments of Nintendo Switch consoles in Japan due to disruption caused by the coronavirus.
No date was given for the shipments to resume. Shipments in the US and Europe will continue as normal.