Nintendo 'striving to create industry standard next-gen controller'
"As the company that knows the most about controllers"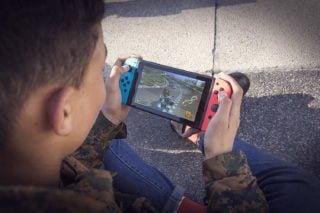 Nintendo's Shigeru Miyamoto has said the company wants to build on its history of user interface innovations by creating a next-gen controller that becomes the industry standard.
During a Q&A (PDF) with shareholders at the platform holder's AGM, the veteran designer said Nintendo was the first company to introduce the d-pad and analogue stick to home consoles.
"We are proud to have created a variety of user interfaces that have now become industry standards. And, as of now, in terms of accuracy and reliability, I believe this style is the clear winner," he said.
"At the same time, I also believe that we should quickly graduate from the current controller, and we are attempting all kinds of things. Our objective is to achieve an interface that surpasses the current controller, where what the player does is directly reflected on the screen, and the user can clearly feel the result. This has not been achieved yet.
"We have tried all kinds of motion controllers," Miyamoto continued, "but none seem to work for all people. As the company that knows the most about controllers, we have been striving to create a controller that can be used with ease, and that will become the standard for the next generation."
Nintendo director Ko Shiota, who heads up the firm's hardware development division, also said work is ongoing to invent "an all-purpose controller that is unlike any of the current devices".
While the company is yet to make a next-gen breakthrough, he pointed out that conventional controllers have "slowly evolved" from their original capabilities to include new features.
"For example, when you take aim in Splatoon, the action may seem conventional, but the motion sensor gives a wonderful feel to the operation," he said. "So even if things may look the same, we are steadily embedding new technologies and finding good ways to use them.
"One of Nintendo's strengths is that we do not just think about hardware, but are constantly thinking about it in conjunction with software. We will continue to put in our best efforts in this area," Shiota added.
During the same Q&A session, Miyamoto dismissed suggestions Nintendo isn't keeping up with advancements in the online space, while Nintendo president Shuntaro Furukawa revealed the company is still developing "quality of life" products, five years after late president Satoru Iwata announced his intention to take the firm into the health improvement business.
Related Products
Other Products
Some external links on this page are affiliate links, if you click on our affiliate links and make a purchase we might receive a commission.