Nintendo showcases 20 mins of Mario Bros. Wonder gameplay
Treehouse Live stream demonstrates early levels and power-ups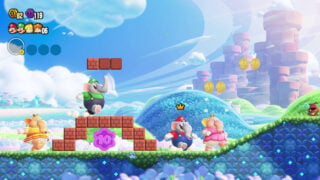 Nintendo has published around 20 minutes of new Super Mario Bros. Wonder gameplay.
The footage was live-streamed on Friday to coincide with the Nintendo Live event in Seattle, which is running alongside PAX West, and offers a look at some of the game's early stages and power-ups.
Super Mario Bros Wonder was showcased earlier this week in the latest Nintendo Direct presentation. The live stream shed more light on the game's roster, power-ups and online system ahead of its release for Nintendo Switch on October 20.
Wonder is the first original 2D Mario side-scrolling game in over a decade. Its new gimmick is the Wonder Flower, which transforms each stage in a different way.
"When you touch a Wonder Flower in the game, the wonders of the world unlock – pipes could come alive, hordes of enemies may appear, characters might change their looks, for example – transforming the gameplay in unpredictable ways. Excitement and different surprises await in each course," reads Nintendo's description of the game.
The last completely original 2D Mario game was 2012's New Super Mario Bros. U. It was ported to Switch in 2019 as New Super Mario Bros. U Deluxe.