Nintendo shareholder meeting 'disrupted by ranting Splatoon 3 fan'
The fan reportedly acquired over $3500 in shares to complain about customisation options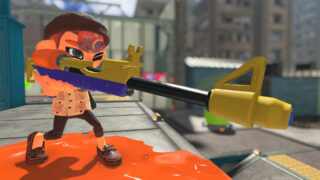 Nintendo's annual shareholder meeting was reportedly disrupted by a fan who purchased shares specifically to rant at the company's president about Splatoon 3.
As first reported by Twitter user NStyles, who attended the event, the meeting's Q&A session included someone "loudly" ranting about female characters' perceived preferential treatment in the third game when it comes to customisation options.
Reportedly, the fan was unhappy with the number of customisation options available to male characters in Splatoon 3, including hairstyles and emotes, compared to those available to female characters.
According to NStyles, the rant continued for some time, causing Nintendo president Shunturo Furukawa to interrupt the fan and tell him that his question was too long. This was reportedly ignored, and the fan's rant continued.
Eventually, he stopped, and Furukawa reportedly replied: "Thank you for your interest in playing our game. We appreciate your valuable opinion."
Following the event, Twitter user Haruikatako identified themselves as the person who asked the question. According to the user, they specifically bought ¥512,000 ($3,570)  in Nintendo shares so that they could attend the shareholder meeting and share their complaint.
They then shared photos of numerous letters they had sent to Nintendo about the topic previously, claiming that they got no response and so decided to buy shares in the company to get a chance to raise the issue directly.
According to the user, they even bought and resold items such as a Nintendo Switch OLED console in order to raise funds for shares, despite their parents telling them "not to get involved".
Showing the full written question, which appears to be extremely lengthy, they wrote: "At the Nintendo shareholders' meeting, I complained about the current cold treatment of Splatoon boys.
"Halfway through, I was told 'there are other people who want to ask', so the second half took a lot longer than planned, but I managed to tell them."
The incident echoes a similar (though seemingly less intense) moment in last year's shareholder meeting, when a Nintendo shareholder took the opportunity to ask Nintendo to release a new F-Zero game.
Following last year's event, a person claiming to have asked the question, who goes by the username @momiji_manjyuu, responded: "I am the one who asked this question! I delivered your enthusiasm directly to Nintendo management!"
At the time, NStyles noted on Twitter that he was "worried that the number of game fans who misunderstand that 'if you buy stock, you can push your demands to Nintendo' will increase from next year".
Related Products
Other Products
Some external links on this page are affiliate links, if you click on our affiliate links and make a purchase we might receive a commission.