Nintendo says it will patch a game-breaking Kirby 64 bug next week
Players have reported being soft locked during gameplay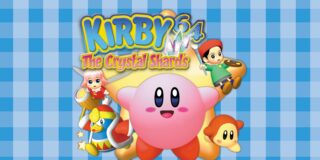 Nintendo has acknowledged a game-breaking bug affecting some Kirby 64: The Crystal Shards players, which it plans to address with an upcoming patch.
Switch Online's 15th and latest N64 release hit the service last week and users quickly began reporting a major bug which is soft locking players during gameplay.
It results in Kirby 64's underwater levels sometimes causing players to become stuck in a stun animation, which can only be solved by quitting the level.
Nintendo apologised for the issue in a statement released on Friday.
"A bug has been found in Kirby 64: The Crystal Shards for Nintendo 64 – Nintendo Switch Online that can prevent players from progressing under a certain condition," it said.
"A patch will be released early next week to fix this. We apologise for the inconvenience."
The Kirby 64 bug is the latest in a line of issues players have discovered with Switch Online's emulated N64 ports, most of which have been graphical issues, but at least one other caused Paper Mario to crash.
The Paper Mario crash was eventually fixed two months after the game was added to the service, but many graphical issues remain in Star Fox 64 and Yoshi's Story.
Switch Online's Expansion Pack tier launched in October 2021 and was met with frustration from some players due to emulation issues and a lack of features including button mapping.
Some games had a noticeable audio delay at launch, while others suffered from the aforementioned graphical issues such as The Legend of Zelda: Ocarina of Time's inability to properly handle fog.
Last November, Nintendo of America's president commented publicly on the issue and said the company was taking criticism of Switch Online's N64 emulation "very seriously".
Related Products
Other Products
Some external links on this page are affiliate links, if you click on our affiliate links and make a purchase we might receive a commission.