Nintendo reveals it's made Mario 3D World's characters faster in the Switch port
Mario and co can run faster and climb higher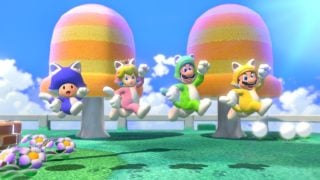 Nintendo has confirmed it's made Super Mario 3D World's characters faster in the upcoming Switch version.
As reported by Nintendo Life, the official Nintendo website has been updated with a new description of 3D World's "snappier" platforming on Switch.
"All characters have received a boost to their running speed and climb even higher after picking up a Super Bell, making platforming that little bit snappier," the site says. "You can now also use gyro controls for certain sections of the game that previously required touch controls."
The increase in movement speed is something that had already been noticed by fans by examining trailer footage, and should make the unique handling of each of 3D World's four playable characters even more distinct.
You can see the difference in movement compared to the Wii U original via the Nintendo Life video below.
Set for release on February 12, 2021, Super Mario 3D World + Bowser's Fury features both online and offline co-op, as well as a new standalone adventure which lives alongside the original Wii U game.
Bowser's Fury is described by Nintendo as a "short but action-packed" free-roaming adventure which has Mario visiting Lake Lapcat, a world where everything is cat-themed and Bowser has gone berserk.
Players must team up with Bowser Jr – who can be controlled via a second player in co-op – and travel to various islands to collect Cat Shines, which reignite lighthouses and clear darkened terrain.
The Wii U port arrives as part of Super Mario's 35th anniversary celebrations. In addition to 3D All-Stars – a collection of classic 3D Mario games – Nintendo has released several additional Mario games for Switch.