Nintendo reveals how rare each Mario Kart Tour character and kart is
Gacha-like Pipe mechanic explained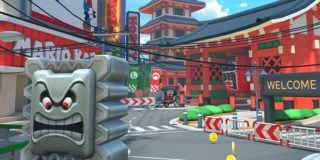 Nintendo has explained how Mario Kart Tour's gacha-like Pipe mechanic works and revealed the appearance rates for all characters, karts and gliders.
The Pipe is a gacha-style mechanic which unlocks random content every time it's "launched". Rubies are required to use the Pipe, which can be earned by completing races or via microtransactions.
UPDATE: This article has been updated to reflect the Halloween tour update.
---
VGC's Nintendo Features:
History of Mario Kart | Best Wii Games | Best N64 Games | Best GameCube Games | Switch classic games | How to buy Switch games from different regions | Super Nintendo World Stamps guide | Super Nintendo World Keys guide | Pokémon Go free codes
---
Each Pipe contains 100 launches in total, with players guaranteed to receive the time-sensitive Tour 'Spotlight' items (such as Pauline) within those 100.
The Pipe can be reset, but players are not guaranteed to receive all unique items within its use. It is possible to obtain duplicate items, which will cause the existing character's, kart's or glider's skill level to increase.
The number of characters, karts and gliders in each Pipe is determined by their rarity. In Mario Kart Tour, Rarity is defined as normal, super, high-end and high-end spotlight (which are items related to the ongoing Tour such as Pauline).
Mario Kart Tour is now available for download for free on iOS and Android.
Mario Kart Tour Pipe Odds
Normal (around 2 – 3% appearance rate)
Baby Daisy
Baby Mario
Baby Luigi
Baby Peach
Baby Rosalina
BBIA Parafoil Glider
Biddybuggy kart
Birthday Girl Kart
Bullet Blaster Kart
Cheep Charger kart
Droplet Glider
Dry Bones
Koopa Dasher Kart
Koopa Troopa
Iggy
Landship Kart
Larry
Lemmy
Ludwig
Morton
Mushmellow Kart
Paper Glider
Parachute Glider
Parafoil Glider
Pipe Buggy
Pipe Frame Kart
Piranha Plant Parafoil Glider
Roy
Shy Guy
Super Glider
Wendy
Super (around 0.5 – 0.6% appearance rate)
Barrel Train Kart
Bob-omb Parafoil
Bowser
Bowser Jr.
Cloud 9 Kart
Daisy
Daytripper Kart
DK Jumbo Kart
Donkey Kong
Diddy Kong
Flame Flyer Kart
Flower Glider
King Boo
Koopa Clown Kart
Lakitu
Lightning Oilpaper Glider
Luigi
Mach 8 Kart
Mario
Oilpaper Umbrella Glider
Peach
Peach Parasol Glider
Poltergust 4000
Rosalina
Royale Kart
Shell Parachute Glider
Soda Jet Kart
Super Blooper Kart
Toad
Toadette
Turbo Yoshi Kart
Waluigi
Waluigi Wing Glider
Wario
Wario Wing Glider
Yoshi
High-End (around 0.25% appearance rate)
Badwagon Kart
Bullet Bill Parachute Glider
B Dasher Kart
Blue Badwagon Kart
Circuit Special Kart
Cloud Glider
Dry Bowser
Full Flight Glider
Kabuki Dasher
Gold Glider
Mario (Hakama)
Metal Mario
Musician Mario
Peachette
Swooper Glider
High-End Spotlight (around 1% appearance rate)
Fare Flier (New York tour only)
Pauline (New York tour only)
Yellow Taxi (New York tour only)
Peach (Kimono) (Tokyo tour week one only)
Purple Oilpaper Umbrella glider (Tokyo tour week one only)
Quickshaw kart (Tokyo tour week one only)
Mario (Hakama) (Tokyo tour week two only)
Kabuki Dasher kart (Tokyo tour week two only)
Full Flight glider (Tokyo tour week two only)
Rosalina (Halloween) (Halloween tour only)
Trickster kart (Halloween tour only)
Wicked Wings glider (Halloween tour only)
King Boo (Luigi's Mansion) (Halloween tour only)
Ghost Ride kart (Halloween tour only)
Rainy Balloons glider (Halloween tour only)